Web Hosting
First a Plan
In order to choose the best plan for you, you should have a good idea of what you want your website to accomplish. A grandparent wanting a website to post pictures of their grandchildren for family and friends to see has different needs than a lady who owns a nail salon using a website to promote her business. A business selling local products may have different needs than someone selling a product to a global marketplace.
A good analogy is the wide variety of cell phone plans. If you have a cellphone just to make emergency calls you probably wouldn't pay for a plan with thousands of minutes and lots of bells and whistles; a basic plan would do just fine. If you need more, you can always upgrade your plan. If you did a lot with your cell phone, you wouldn't consider a small plan but would want something suitable to how you use is. So it is with hosting plans.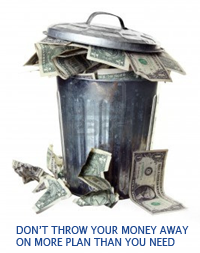 How Our Plans Differ From Cell Phone Plans
If you buy a plan for your phone that's too small for your needs, the cell phone companies are delighted to charge you huge fees for each minute you exceed your plan. That won't happen here. Our automated systems monitor how much bandwidth and space you are using and if you are approaching a limit, we will contact you and let you know before you reach a limit. This gives you more choices. You can limit your files or use OR you can upgrade to a higher plan for a couple dollars more per month - you decide.
Suppose you had a seasonal business, selling items that were Christmas related. You might only need a Starter plan for 9 months and an Advanced plan for 3 months, then back to Starter. We're fine with that - we want your website to accomplish what it needs to without you paying for services you don't need.
Hosting Plans
We offer two fixed plans with features that cover about 75% of those who use our hosting services. We also offer a Custom plan that we tailor specifically to YOUR needs. Features of our two fixed plans can be seen on our Hosting Plans page. For more information about a Custom plan, click the Custom plan link on our Contact page.
All of our plans come with a control panel that gives you complete control over your domain and what's on it. Just some of the things the control panel allows you to do:
Upload or download files
Create, delete, or modify e-mail accounts
Use spam filters
Create auto responses to e-mails
Automatically forward e-mails
Change your password(s)
Password protect your files and directories
Backup or restore your domain's files
Check your site's statistics
Install software for bulletin boards, blogging, or even creating another website.